ikubINFO is the largest enterprise software engineering company in Albania.
Our company is led by passionate professionals and best leaders of the market
some of which have 20+ years of experience in the Information Technology industry.
We have the biggest group of senior software engineers who constantly support junior developers that want to professionally grow in a dynamic and innovative environment.
Using a 5-year strategy based on Balanced Score Card methodology we have gained technical and business maturity which ensures future stability.
Our work processes are built based on the most well-known international standards and methodologies making every single one of our employees highly competitive professionally with any other national or international professional.
We pay special attention to our Social Responsibility and our contribution to the IT community in Albania.
We use a wide range of the most up-to-date and well-known technologies.
We are a part of big and challenging projects from different industries which require enterprise-level application. This is creating more professional growth opportunity for our team and getting them familiarized with different business needs therefore making them more competitive in the market.
A wide variety of national and international clients
in the public and private sector.
Our company supports the initiatives of our employees providing them with special funds to develop their innovative projects.
Assessment
Our company conducts periodic employee evaluations, based on transparent systems of professional assessment.
Promotion
Our company promotes and funds professional certifications and trainings for our team.
Opportunity
Opportunity for professional growth following a defined career development plan, as well as involvement in different challenging projects, inside and outside of Albania.
Investment
We constantly invest in the development of our employees by acquiring new technologies, specializations, access to international training platforms, or participation in important seminars and conferences.
Performance
Each employee has their own Annual Performance Plan, built up by employees in collaboration with their supervisors, which is the core of their Annual Performance Assessment.
Benefits
Full compliance with the legislation of the Republic of Albania
20 days of paid annual leave
40 hours of work per week, with extra payment for overtime
Flexibility in work schedule
Additional private health insurance
Financial Benefits
Our company offers the most competitive salary packages in the market, ranking in the top 5% of the highest-paying companies in the Information Technology Industry in Albania.
Each employee receives a 13th salary at the end of a calendar year.
Each employee receives an additional financial reward up to the value of a full monthly salary, based on their job performance.
We make sure to value and motivate employee engagement with several bonuses throughout the year.
Life at ikubINFO
 We promote collaboration with a strong team spirit, as well as open and transparent communication across all levels in our company.
We constantly organize different activities and events, in order to create a good work-life balance
We encourage a wide diversity in opinions, while strongly maintaining the professional and technical profile of the company
We constantly exchange ideas, and we encourage our staff to give us feedback on company development as well as employee development.
We have convenient work environments, in compliance with standards, positioned in the center of Tirana.
We support our team members and celebrate each others' professional achievements.
We are ikubINFO
Rexhina Baci
I am Rexhina, Software Developer at ikubINFO!
➡️ #FunFact: Road trip lover with amaxophobia 😎 🚗
➡️ My job: This job gives me the opportunity to be a part of the whole software development life cycle. 🔁 Among other things (researching, designing, implementing and managing software programs) I get to be involved in liaising with our Business Analysts and Development Managers, to ensure software projects meet requirements. ikubINFO is my first job experience, I have been part of the big family for almost four years now and I am looking forward to other great years ahead 😊 🔛🔝
➡️ Fav ikubINFO #workbenefit: There is always ample opportunity to learn, challenging environment, diversity of projects and technologies, friendly and professional co-workers. To sum it up, it's a great work atmosphere.
➡️ Favorite #inspiring quote: "Work hard in silence, let your success be your noise." - Frank Ocean
-
Kristi Shehu
Hi, my name is Kristi and I am a Digital Marketing Specialist at ikubINFO company.
➡️Fun fact about me: Even though this may sound a little bit dorky, I have to say that a fun fact about me is being a true anime lover and that I have a great passion for manga collecting. 🗞
➡️#lifechanging experience: I must admit my life changed for better when I got a job at ikubINFO company, because there not only did I find really good opportunities to grow professionally as an individual, but also I found very good friends that today I can even call them family. 👩🏼‍💻
➡️Favorite #inspiring quote: ``It's all so meaningless, we might as well be extraordinary`` by Francis Bacon.
-
Bruno Goxhi
I am Bruno Goxhi, Software Developer at ikubINFO.
➡️#Recharges by : Books, videogames, meditation, cinema and challenges. 📚 🧘‍♂️ 🍿 🎞
➡️#MyMotivation: The ongoing curiosity for the art of living. 🔄
➡️Why ikubINFO: Being a part of ikubINFO seemed like the best choice to progress my career further in the technology industry. 🖥⌨️.
-
Idlir Parllaku
I am Idlir, Software Developer at ikubINFO.
➡️ #Recharges by : Photo shooting and travelling. 🤳🏽📹 🗺
➡️My Job : I have to develop software applications and create different websites. I am proud to serve my country through projects that my company allows me. 🖥💻
➡️#MyMotivation: I love traveling and till now I can count 29 Countries visited. My goal is to visit as much as I can and also shooting pictures and creating unforgettable memories. 🗺 Favorite object to shoot is the Moon. 🌝
➡️#MyMotivationalQuote: Don't worry if you're making waves simply by being yourself. The Moon does it all the time. 🌗🌘🌑🌒🌓
➡️Why ikubINFO: It is the best company where you can develop yourself and also it offers you the possibility to work through strong work ethics and procedures. 🙏🏼
-
Kjara Dika
I am Kjara, HR Recruiting Manager at ikubINFO.
➡️Recharges by: Travelling and exploring. In my opinion, travelling not only ensures a peace of mind, but also broadens your horizons and makes you see things from a different angle.
➡️Favorite #inspiring quote: The future belongs to those who believe in the beauty of their dreams.
➡️#lifeatikubINFO: What I love about ikubINFO is the way its culture embraces diversity, allowing for every unique individual to shine in their best light. This is what makes our team the strongest and most united. 😊
-
Ramazan Disha
I am Ramazan, Software Developer at ikubINFO.
➡️#hiddenTalent: Football ⚽️ ⛹🏾
➡️#MyJob: I love my job because it's the quickest way to create, and also to make your creation a perfection - by easily and quickly revising, fixing and improving what you sometimes cannot with physical creations. Having this as a job gives us the power to influence other people's lives through programs that could help them with day-to-day tasks. 💻🧑🏻‍💻
➡️Favorite #inspiring quote: "Success is no accident. It is hard work, perseverance, learning, studying, sacrifice and most of all, love of what you are doing or learning to do" - Pelé 🖥
➡️#lifeatikubINFO: IkubINFO is the ideal place for people who have a passion for their work and the desire to make an impact. A great place where you can grow as a professional and as a person.
-
Ana Qafa
I am Ana Qafa, Business Analyst at ikubINFO.
➡️#Recharges by: Albanian folk dances 🇦🇱
➡️My job serves as an intermediary bridge between IT and business. A business analyst draws out the needs that are not yet known and comes up with solutions to help organizations improve their processes.
➡️Why ikubINFO: ikubINFO was the one who offered me the opportunity to learn more about the job position as Business Analyst and to grow professionally as a Business Analyst by being involved in different projects with great teams.
➡️Favorite #inspiring quote: "Believe in yourself and you will be unstoppable"
-
Fation Losha
I am Fation Losha, a Project Manager at ikubINFO.
➡️#FunFact : I am a big F1 racing fan and I also enjoy racing cars on racing simulators. 🏎
➡️#MyMotivation: My motivation is doing work I am proud of.
➡️Why ikubINFO: I enjoy working at ikubINFO because of the chance to work everyday with talented people on meaningful and impactful projects. We strive for the highest levels of professionalism and challenge each-other to achieve that.✔️
-
Anila Quka
I am Anila, Software Developer at ikubINFO.
➡️#Recharges by : Graphic Design, Interior Design, Programming
➡️#My job: Working to make life easier for others is undoubtedly a noble job that programming enables. That's why I love my profession. I am happy to develop my technical skills in programming at ikubINFO.
➡️#MyMotivationQuotes : Always be a work in progress
➡️#lifeatikubINFO: Ikubinfo is more than a job for me. It is my first professional experience, where I learned how to work in big groups and projects, where my self-confidence got stronger and where I continue to expand my learning everyday. It is a true pleasure to work for one of the best companies in Albania, such as ikubINFO.
-
Kristina Sino
I am Kristina, Software Developer at ikubINFO.
➡️#Recharges by : Meditation
➡️#My Job : Coding..and its not just my job, its what i love to do.
➡️#LifeChangingExperience: Practicing yoga for me is like ``getting out of confort zone in life``. Its not easy at the beggining, you feel pain but if you do it continually, it becomes easier and easier. You just have to breath, let go and tell your brain that yes, you can do it. And this is the mindset yoga taught me.
➡️#MyMotivation: Invest and grow, be the best version of yourself!
➡️#Why ikubINFO: Working at ikubINFO has given me the chance to challenge myself through putting me in different experiences. One thing i appreciate most about this job is being surrounded by people that inspire me to become better. I have grown so much because of it and there is a lot more to do.
-
Armand Silo
I am Armand, IT Infrastructure & Security Specialist at ikubINFO.
➡️#FunFact: Although I'm an avid foodie, I still manage to somehow stay fit. 🦾
➡️My job: In my role as an IT Infrastructure specialist, I create, alter and manage ikubINFO's information centers. I also manage cloud computing, as well as mobile technology access and security initiatives and direct several internal departments, among other duties.
➡️Fav ikubINFO work Benefit: I really enjoy teamwork, and at ikubINFO I found a diverse group of colleagues that I can rely on and collaborate with.
➡️Favorite #inspiring quote: ``All the effort in the world won't matter if you are not inspired.``
-
Xhensila Canaj
I am Xhensila, Software Developer at ikubINFO.
➡️My job allows me to turn the science of programming into art. ✅ I have to develop software applications (together with amazing team of ikubINFO) and turning my code knowledge into a useful and beautiful product.
➡️#MyMotivation: I love art in all it's dimensions. I like reading books and writing lines.📚📕📗📘📙
➡️#lifeatikubINFO: I chose ikubINFO, because I needed to grow professionally.So, which is the best company in Albania in charge of that⁉️
-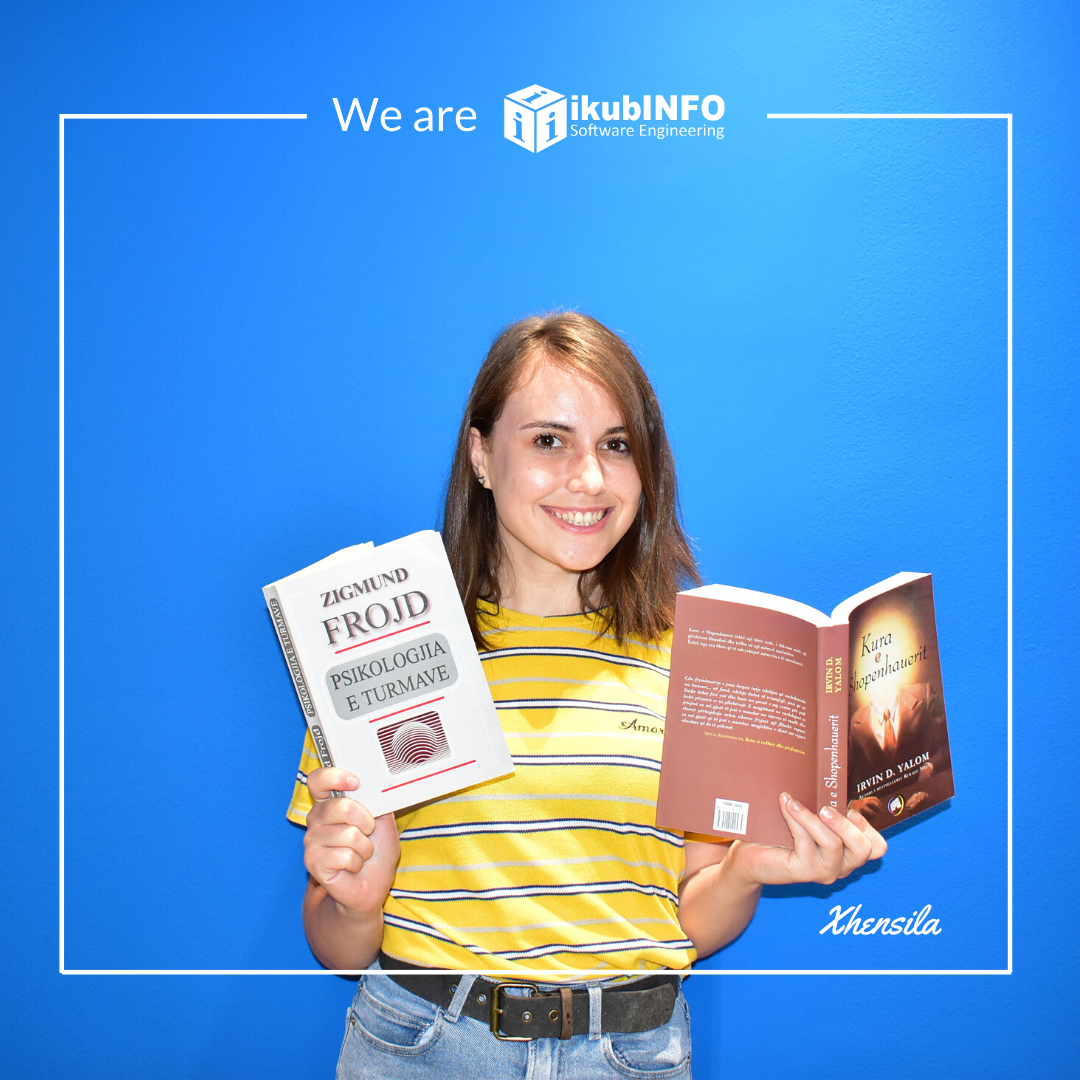 Bora Qori
I am Bora, Software Developer at ikubINFO.
➡️#Recharges by: Going around with my bike is my favorite thing to do. You can never be sad while riding a bicycle! 🚲
➡️Favorite #inspiring quote: Fit your dreams into the scent of the daisies.
➡️#lifeatikubINFO: My job at IkubInfo is my first job as a software developer, and one's first job is much like a first love... Adventurous and sometimes frustrating, but priceless in hindsight.
-
Ina Beqiraj
I am Ina, Software Quality Assurance Engineer at ikubINFO.
➡️#Recharges by: Painting is just another way of keeping a diary. When I paint, I try to escape a little from reality and live in a fantasy world. 🖼 🎨
➡️#lifeChangingExperience: Traveling and getting to know other cultures has made me look at life from different angles and be a better person. 🌍
➡️Why ikubINFO: For me ikubINFO is a special source of motivation, pushing me to move forward in my career and giving me positive energy. We are surrounded by good people, passionate about their profession. ikubINFO is the place where you wake up excited to go to work.
-
Romina Topciu
I am Romina Topciu, Resource Engagement Manager at ikubINFO.
➡️#hiddenTalent: Embroidery 🧵
➡️My job allows me to: Feel respected and valued for what I bring to the company. 💡
➡️#MyMotivation: Travelling and embroidering different landscapes from places I have visited. 🧳 🧭
➡️#lifeatikubINFO: My manager honestly loves and cares for her employees and shows that love daily. Also, I am surrounded by many highly driven and successful people who genuinely care about those they work with, and the community in which they live. 💻👩🏼‍💻
-